Hall Plan
ISLE 2024
The Whole New Upgraded Exhibition Area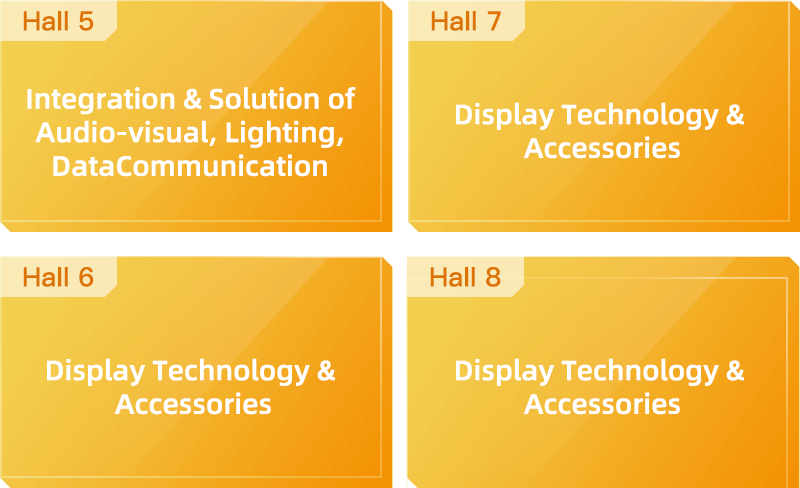 Display Technology & Supportings
( Hall 6-8)
Display technology:

LED display; indoor and outdoor LED display; fine pixel pitch LED display; transparent display; customized display; flexible display; creative display; LED rental display; LED sign board; digital display; video LED display; LCD display; OLED display; Laser display; Projection display: CRT display; PDP display; HDD display; 3D display; interactive panel display; Digital signage; headup display; Virtual display; conference AIO machine

Supportings:

image processing and control system; Signal transmission and switching; Switching power supply; Wire and cable; Air box; Dispatching desk and other supporting parts; Consumables.

LED industry chain products

LED material; LED upstream industry; LED chip industry; LED packaging; Test instruments and production equipments.
Sign:

Digital signs; Guidance signs; Outdoor signboards; light box; 3D products; Multimedia and luminous products; exhibition & display equipments; Portable exhibition equipments; Commercial shop decoration; Stage truss / POP etc.

LED lighting:

Outdoor lighting;commercial lighting; Intelligent urban lighting; Immersion lighting; Culture and tourism lighting; Smart light pole / street lamp; street lighting; landscape lighting; Intelligent lighting; Light source; Plant lighting; Ultraviolet lighting; Health lighting; Digital lighting; Architectural lighting.
Integration & Solution of Audio-visual, Lighting, Communication
(Hall 5)
Integration & Solution of Audio-visual, Lighting, Communication

Distributed integrated management solution; Digital conference solution; intelligent education solution; Projection light show and acousto-optic control system; intelligent broadcasting system; digital presentation and Information Publish System; Stage lighting system; security monitoring system; Signal processing and centralized control system.