Good news! ISLE become "UFI Approved Event"
15th Feb., 2021, UFI (Union of international Fairs) notified us:
Canton Fair Advertising Co., Ltd. approved as a full member of "UFI Exhibition organizer" and
ISLE has been granted the status of "UFI Approved Event".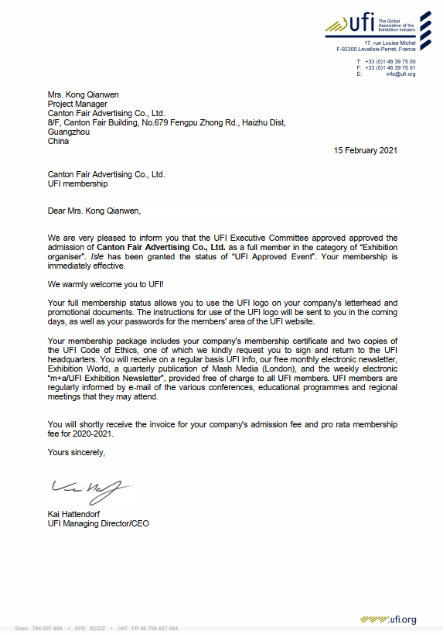 UFI is the leading international organization in the world exhibition industry. Exhibition companies in all countries are proud to join UFI as a member and credit their exhibitions with UFI certification.
Up to now, UFI has nearly 1000 members of enterprises / organizations from 87 countries, and more than 960 international exhibitions have passed UFI certification.
Now as an official UFI event, the International Smart Display & Integrated System, Signs & Smart Space Application Exhibition ( "ISLE 2021") will be held in Shenzhen World Exhibition and Convention Center (Shenzhen World) from 10th to 13th of May, 2021.
As the organizer, we will continue on our path of professionalism and will comprehensively upgrade the ISLE exhibition content, exhibitor invitation, market promotion, visitor invitation, on-site service and other aspects, so as to provide quality service for both ISLE visitors and exhibitors.